Our Approach to Naturopathic Family Medicine
Dr. Martin practices naturopathic family medicine blending safe and effective traditional therapies with modern scientific knowledge. Her approach encompasses all aspects of family health from pediatric to well women care.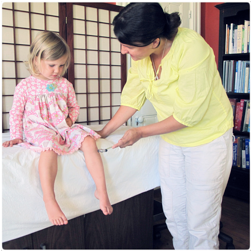 Naturopathic physicians concentrate on whole-patient wellness and recognize that an individual's symptoms serve as guides to finding the underlying cause of illness. As a naturopathic doctor, Dr. Martin acknowledges the wisdom of the human body and the natural world and utilizes natural therapeutic methods to encourage optimal health in the individual, family, and community including:
Clinical Nutrition: The utilization of food as medicine. Dr. Martin educates her patients through dietary and lifestyle counseling. Food sensitivity testing and nutritional supplements are also utilized to promote wellness and prevent disease.
Botanical Medicine: Dr. Martin custom formulates plant based herbal tinctures to address your specific health condition. She strives to use herbal medicine as her primary medicinal therapy.

Homeopathy: A 200- year old form of medicine that uses highly diluted substances that stimulates the body's healing response. Homeopathic remedies are non-toxic and can therefore be prescribed to newborns and children or any time a gentle therapy is needed.
Physical Medicine: Dr. Martin offers acupuncture treatments and refers patients to colleagues that practice massage, hydrotherapy, cranial sacral therapy, physical therapy, chiropractic and other forms of natural manipulation.
Lifestyle Counseling: Dr. Martin believes that the mental and emotional state of a patient plays a vital role in their health.
The ultimate goal of naturopathic medicine is the preservation of health through preventative measures. There are circumstances that may warrant conventional medical treatment and therapies. In these cases, Dr. Martin has the ability to prescribe pharmaceuticals in conjunction with natural therapies and can make referrals to other health care professionals.